S

am
Froggatt
✻
Sam's passion for horses began when she first led out her godmother's pony Festy when she was only 18 months old. Festy was four times her size but a rapport was established with all horses which has never been broken. Throughout her early childhood this rapport grew at every opportunity into a life-long passion. Although not from a "horsey" family Sam managed to ride and care for friends' ponies at every opportunity until she was able to get her own pony. She joined the UK Pony Club and also being a talented athlete, competed at district level for Eventing and Tetrathlon (Riding, running, swimming and shooting).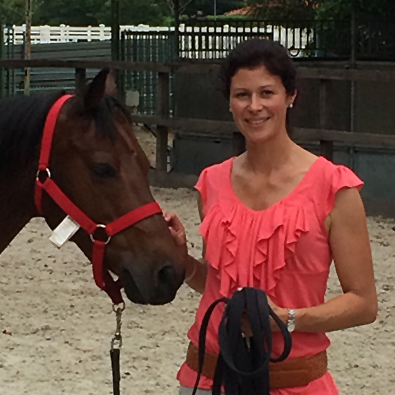 During a year out before University, Sam was accepted as a trainee into an Olympic level event yard in Ireland, adding the handling and training of very successful competition horses to her experience.
During her three years at university Sam joined the British Army's Officer Training Corps, a part-time organization geared towards attracting potential leaders to become full-time Army Officers. This organization gave Sam invaluable training and experience in leadership, teamwork, commitment and management. At the end of her time at University, Sam decided to apply for and gained entrance into the Royal Military Academy Sandhurst, the British Army's elite Officer Training School, which accepts only the best candidates from around the world. Sam completed the gruelling six-week basic training course with flying colours at RMA Sandhurst but decided it was not the life for her. However, she maintained her links with the military, remaining a member of the Territorial Army for another 2 years whilst working for several Merchant Banks in London.
Coming to New Zealand in 2001 for a ski season, Sam fell in love with Queenstown and decided to stay. She has worked in a variety of roles for local companies from Event Manager for one of the busiest bars in town to Admin Manager for a Montessori childcare center to Catering Manager for a very busy mobile catering company. Sam has applied her management and leadership skills to a diversity of enterprises.
Sam met up with Andrew Froggatt 4 years ago and they decided to combine their skills, knowledge and experiences in this exciting company, "Lead the Way".