✻
Person Within
Hands on life skills training for kids.
Is your child struggling with confidence, anxiety or communication skills?  Do you want to help increase their self-esteem, learn to manage their emotions better and improve their problem solving and decision making skills? With the Person Within course we teach this and much more, using horses as our training tool we help kids come out of themselves and independently learn valuable life skills.
Using horses as our learning tool allows the children to get hands on and active, learning for themselves under our guidance.  We use video analysis to raise their self-awareness and fun exercises with the horses to improve confidence and teach about communication and relationship building.  Assisted discussions about the activities with the horses help the children to relate their experiences back to everyday life and situations.
This is a great course for kids who are soon heading to high school from intermediate or primary school as it teaches so many life skills.  The course is designed for ages 9 – 12 years old.
✻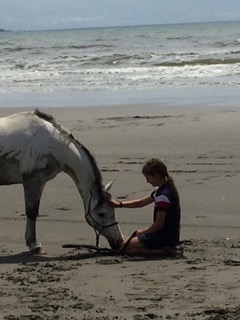 Contact Us
Wellington, New Zealand.
• Andrew Froggatt : Tel: +64 27 271 1548 • Sam Froggatt: Tel: +64 21 901 891
• Email: contact@lead-the-way.co.nz